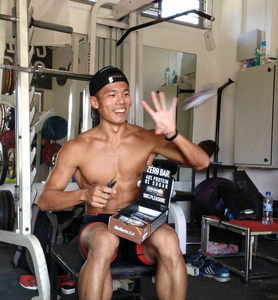 Yao Peng, Master Trainer of MaxForm answers your most pressing questions about fitness
Speed has been everything for Yao Peng. With all his focus now falling squarely on his athletics academy, Maxform the shredded hunk under 30 years is blasting past his predecessors with a positive chime that zings past all his competition.
Training intensity is important when working out to reach your goal. How do you achieve and maintain your training intensity?
"A determined mindset, good and balanced nutrition, rest and good training program. These elements will contribute longevity and consistent practice (training) which brings you a step closer to your goals." 
How do I find what drives me to exercise?
It's individualistic and has no specific answer to it. Some strive for aesthetics, some train for performance goal(s), while some others simply enjoy the company and process of working out. You could have all 3 too. My advice is: dare to try and enjoy the journey! One step at a time!
How can I enjoy my favourite foods while still achieving my fitness goals?Workout doubly hard, focus on high intensity workout and build muscles to burn all those calories! 
I can't seem to stick to diets. How can I eat better to achieve my fitness goals
There are plenty of diet plans out there, with pros and cons. Choosing the "appropriate" one may take some time. Nonetheless, one needs to find the pure motivation to why a change of diet is required and simply act upon it in small portion. After all, a step at a time and be patient.
Which product on www.crazybadman.com do you like the best?
For fat loss, one may consider BIOTECHUSA: ULISSES SHAPER FAT BURNER as a supplement to boost one's metabolism. Nevertheless, like what Ulisses and tonnes of studies out there, a proper training program and discipline to eat well takes precedence! No short cuts!
If you've developed a need for speed, and you want to build strength and/or speed, do check out  http://max-form.com/
---