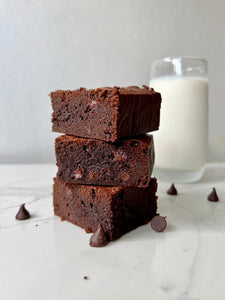 Lava Cake Protein Brownies Recipe (Fudgy Texture)
Ingredients:
50g Proteus Nutrition Chocolate
Lava Cake WHEY Protein Powder
20g Flour
3/4 tsp Salt
50g Unsweetened Cocoa Powder
50g Granulated Sugar
50g Light Brown Sugar
100g Semi-sweet Chocolate Chips
2 Eggs
170g Unsalted Butter (Melted)
1 tsp Coffee
1 tsp Vanilla Extract
SERVERINGS: EIGHT (8)
PREPARATION TIME: 15 MINUTES
COOK TIME: 25 MINUTES


Recipe Directions
Preheat the oven to 170°C.
Begin by sifting cocoa powder into warm, melted butter and whisk to mix evenly. This blooms the cocoa powder, intensifying the chocolate flavour and making your brownies extra decadent!
In a large mixing bowl, combine the melted butter, coffee, vanilla extract, granulated and light brown sugar. Then, whisk in the eggs. (Warning: Allow the melted butter to cool before adding the eggs to prevent them from cooking in the batter).
Next, sift together Proteus Nutrition Chocolate Lava Cake WHEY Protein Powder, flour, and salt, and fold to incorporate into the wet ingredients. Just before the dry ingredients are fully incorporated, add in the chocolate chips and fold a few more times until no streaks of flour can be seen and chocolate chips are evenly distributed in the batter.
Line a baking pan with baking paper to prevent the brownies from sticking. Then pour in the brownie batter and spread evenly. Bake the brownies for approximately 25 minutes. To ensure that your brownies come out fudgy, gently press down on the centre of the brownie. It should feel slightly soft, but set. Take it out of the oven and let cool. To serve, cut a generous slice of brownie and sprinkle with sea salt flakes to bring out the richness of the chocolate, making these brownies that much more irresistible!
Try it today and let us know how your brownies turned out!
---