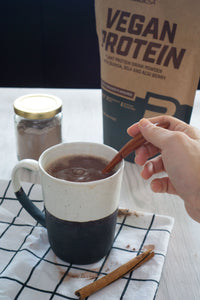 Instant hot chocolate muscle mix (High Protein Vegan Recipe Series)
Want hot chocolate at home but don't want the fuss? Make your own pre-mix for cold or rainy days when you want a chocolaty treat with the protein yet without the guilt. Just add hot water! Sugar-free and cholesterol-free if you use non-dairy milk powder.
Makes about 160 grams.
Macros per serving (5 tbsp, 40g):
17.5g protein

17.2g carbs

2.7g fat

2.5g fibre
Ingredients:
70 grams Chocolate Cinnamon Vegan Protein Powder

8 tbsp soy milk powder (or any dairy or non-dairy milk powder of your choice)

1 tsp cinnamon powder

5 tbsp cocoa powder 

Cinnamon stick, to serve (optional)
Method:
Mix Vegan Protein Powder, soy milk powder, cinnamon powder, cocoa powder and raw sugar in a mixing bowl. Sieve once for a smoother mix if preferred. Transfer into an airtight container to store.

To make the hot chocolate, simply mix 5 tbsp of the pre-mix with 400ml warm or hot water. Stir with a cinnamon stick for stronger cinnamon taste or add sugar if preferred.
Tip:
This is best kept in an airtight container in the fridge, or at room temperature away from direct heat and sunlight.

Dutch-processed type of cocoa powder is recommended for a smoother and less bitter chocolate flavour.

For an iced version, dissolve 5 tbsp of pre-mix with 350ml room temperature water and add ice cubes.

Try this recipe with our other flavours - Vanilla Cookie and Coffee!
---
1 則留言