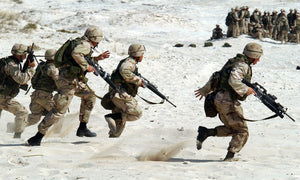 3 Army essentials you need for Basic Military Training (BMT)
Basic Military Service (BMT) is possibly the most important period of a Singaporean male's life. This three month long pilgrimage on Tekong island is our rite of passage from boy to man. As such, making this painful journey less suffering is a gift opportunity for your boyfriend, husband, son, friend, bromance partner or... officer-to-be all the more necessary.
Basic Military Training (BMT) Introduction
Singapore is 1 of 27 countries in the world with compulsory conscription service. Over the course of three months of soldiering covering topics in:
Weapon handling and presentation
IPPT training
Strength training
Standard obstacle course
Battle inoculation course
Swimming
Route marches
Basic trainfire course
Individual field craft
Field camp
Urban operations
Grenade throwing
National Education
Singaporean Problems no other conscription service has
Our hot and humid island causes army, navy, and airforce problems other countries like beautiful South Korean with drier temperate climate do not suffer from. As such, www.crazybadman.com being a 100% vending and online business for sports and supplements have answers to your BMT problems.
(BMT Problem 1) Your boots stink like crazy
BMT is really physical. There's a lot of exercising and a lot of sweating. SO! It's natural that your boots stink. One way to diffuse the stench is to use our sneaker balls! Sneaker balls absorb odours and ensure your nickname is not 'stinky feet'. Sneaker balls come in many designs and what best way to be tactical than to camouflage.
(BMT Problem 2) The cookhouse food is inedible. There's no protein and it's all chicken!
The Basic Military Training (BMT) cookhouse is infamous for its 'cuisine'. As such, your loved one needs the protein and right nutrition for him to heal from a hard day of physical training. Zero bars from BiotechUSA have 20g of protein and zero added sugar so he'll bulk up and lose fats all in the same time.
(BMT Problem 3) Escaping the humid and hot claws of heat exhaustion
Heat exhaustion and its deadlier counter part, heat stroke is a real cause of concern in the Singapore army, air force, and navy. One way to keep heat stroke at bay is ample hydration. Of course if you are drinking cold water that's the best. To ensure you have the most cold water possible to avoid stroking out due to heat, the 2.2 litre BioTechUSA is highly recommended. Also if you fill it up, you could use it as a bicep curl. #multipurpose
---