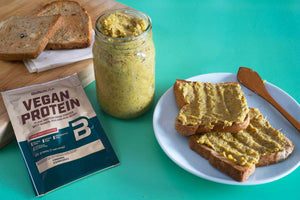 Protein Pineapple Chia Jam
Makes about 450-500 ml
Macros (2 tbsp):
4.2 g protein
7.25 g carbohydrates
0.75 g fat
1.25 g fibre
Ingredients:
About 800g pineapple, chopped
2/3 cup BiotechUSA Forest Fruit Vegan Protein
2 tbsp chia seeds
Juice of 1 lemon
Skin of 1 lemon, chopped into big pieces
1/3 cup water, more if needed
Instructions:
Blend the pineapple in a food processor to get a liquid paste.
Place pineapple and lemon skins in a large saucepan. Heat it over low-medium heat, mash and stir.
When the pineapple mixture is boiling gently, stir in BioTechUSA Forest Fruit Vegan Protein.
Add in water till you get a runny mixture. Continue to simmer over low heat.
When mixture reaches a full boil, pour in chia seeds and mix. Continue to boil for 15 to 20 minutes or until desired texture is achieved. It should be thinner than your desired consistency as it sets in the fridge.
Remove from heat and let sit for 15 minutes.
Serve with bread or crackers. The jam can be kept in the fridge for up to 3 weeks in a covered jar.
Notes:
Chia seeds here are important, they help thicken the jam. Sugar or pectin also works.
Try this out with our Banana and Vanilla Cookie flavours too!
---