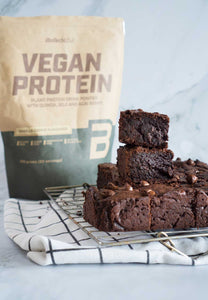 Dark Chocolate Protein Brownies
Moist, fudgy and chocolaty, what's not to like about brownies? We're sharing with you an even better brownie that's protein-packed with no cholesterol, made without processed butter or margarine. Feel free to share these treats – or not!
Makes one 20cmx20cm batch.
Macros (per slice, if cut into 8 slices):
7 g Protein
61 g Carbohydrate
7 g Fats
7 g Fibre
Dry Ingredients:
2 cups flour, sieved
¾ cup cocoa powder (Dutch processed recommended)
1 tsp baking powder
½ tsp salt
½ tsp cinnamon powder
Wet Ingredients:
20g unsweetened dark chocolate (at least 70% cocoa)
1 and ¾ cup unsweetened soy milk
1 cup BioTechUSA Vegan Protein Vanilla Cookie flavour
2/3 cup sugar (raw sugar recommended)
¼ cup dark brown sugar or molasses sugar
1 cup plant oil (canola, sunflower or grapeseed recommended)
1 tbsp unsweetened black coffee
1 tsp vanilla extract/paste
½ cup chocolate chips (non-dairy recommended)
Method:
Preheat oven to 200C. Mix all dry ingredients together in large bowl, make a hole in the centre and leave aside.
Melt the dark chocolate in the soy milk over low heat, stirring to prevent burning. Add BioTechUSA Vegan Protein Vanilla Cookie and whisk to dissolve fully.
Whisk sugars and oil together in another large bowl until combined. Then add coffee, vanilla, non-dairy milk and chocolate protein mixture from step 2 and mix till a smooth paste.
Pour wet mixture into dry mix. Using a spatula, mix until just combined, stop mixing when you see no more flour. Add chocolate chips and mix gently to incorporate. Line a pan with baking paper. Pour mixture into pan and use spatula to flatten it out evenly. Sprinkle some chocolate chips onto the surface.
Bake for 15 – 20 mins, until a toothpick inserted into the centre comes out clean. Remove, let cool in pan for 1 minute before transferring onto rack. Cool completely before cutting.
Notes:
A longer baking time will result in a crumblier brownie, a shorter time makes a fudgy brownie.
Our other BioTechUSA Vegan Protein flavours like Hazelnut, Chocolate Cinnamon, Coffee and Banana will work great too.
Keeps for up to 5 days in an airtight container in a fridge.
---