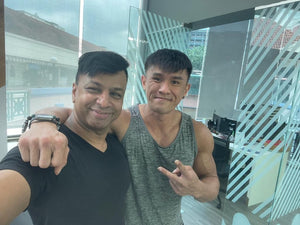 Personal Trainer, Allan Ah Lun's Successful Clients' Transformation Stories
Successful client transformation stories are a good statement of their trainer's ability. Here are some fitness journeys that Allan Ah Lun worked on:
Najeed, aged 30+, Fitness goal: Work out better
Jonathan, aged 38+, Fitness goal: Work out better and more consistently

Ramesh, aged 50+, Fitness goal: Gain more stamina and energy

JC, Fitness goal: Gain strength
Samson, aged 44+, Fitness goal: Weight-loss and gain strength
Jeff, Fitness goal: Gain strength and break through his current fitness plateau
Grace, aged 33+, Fitness goal: Gain muscle mass
Najeed, aged 30+, Fitness goal: Work out better
I have been training with Allan for almost 2 years. He's a passionate and encouraging personal trainer in everyway, you even can see in his expression how much he enjoy sharing his knowledge catering for individual needs in the first 3 month that we work together I manage to drop 10kg of body weight and I feel amazing and healthy.

Over the year I'm focusing putting on muscle mass and in the same time burn off unwanted body fats . He's advice for me is to eat within my calorie in take and by lowering down slightly on my carbohydrates and fats in take. Adding cardio 2-3 time a week really make a big different in increasing my metabolism rates. I will strongly recommend Allan as a personal trainer.
Jonathan, aged 38+, Fitness goal: Work out better and more consistently
I am 38 years old, and currently working in marketing. I first met Allan when I joined Anytime Fitness back in November 2021. My first impression of him was, "Wow, this dude is huge and scary".  But it turns out that he's a gentle giant.
As with any new gym goer, my first few months in the gym were quite harrowing. Not only was I insecure about my physique, but I was also new to training in the gym and had absolutely zero experience. My previous routine consisted of running, burpees and push ups. Any information I had was gathered from YouTube and Google.
It was intimidating to say the least. But Allan always put me at ease by saying hello and having quick chats with me in between sets. He gave me pointers on my form even before I engaged him for PT sessions. During my PT sessions with him, he answered all of my questions (I had quite a few) and helped me push myself to my limits and beyond. He helped me with my form and most importantly how to activate the particular muscle group I was training.
Every Monday, Weds and Friday for a year he would put me through gruelling yet rewarding workouts. Thanks to him, I've built a proper foundation for weight training and learnt the importance of proper form. Since then, he has become more than just a PT, but a good friend. We talk about different or new trends, and I often go to him for advice on nutrition and different aspects of weight training.
Till this day, he will still give me pointers about my form, even though I am no longer a client. Without his advice, guidance, and support, I would not be on the path right now to achieve my dream physique. Weight training has become my lifestyle, and he has had a huge influence on it. Even though I have not achieved my goal yet, I know that when I do, he has had an important role to play in it.
Ramesh, aged 50+, Fitness goal: Gain more stamina and energy
Personal training keeps me motivated to continue training. Some weeks it is hard to stay motivated. My personal trainer Allan Tan has really kept me moving. Allan is very personable and knowledgeable. He does his own research and also checks with other trainers or health service providers and updates me with his findings, with that he does tailor to the need of an individual trainee. His cheerful attitude makes the training time go quickly. After each session I did sign up with him. I'm coming 50 year old this year and he knows my limit and try to push my boundary. Although sometimes I "hate"him, he does produce results in the end. My family and friends have seen the changes and I feel it too. I have more stamina and more energetic. Allan has been responsible for getting me through .Allan has been an inspiration. He talks about his bodybuilding moments on and off stage. He is always cheerful and while he pushes hard to get me to reach my goal.

I am pleased with my progress and feel assured that with his continued training and encouragement I would continue getting good results and attain my goal. PT under Alan Tan since Jun 2018.
JC, Fitness goal: Gain strength
Allan's knowledgeable, and he was very serious about helping me meet my fitness goals. He goes to great lengths to make sure my workouts are done correctly. After several sessions with him, I felt my body becoming stronger. The workouts have had a positive impact on my life and my mindset too. Allan's also very prompt and responsive when it comes to questions I have about health and/or scheduling sessions. Thanks to Allan for this experience! 
Samson, aged 44+, Fitness goal: Weight-loss and gain strength
Hi my name is Samson, age 44 and am Research & Development Chef. I have trainee with Coach Allan for close to 2 years. He is the epitome of professionalism and dedication. From day one, he has been invested in my fitness journey, providing me with personalized attention and guidance. His workouts are challenging yet enjoyable, and he consistently keeps me motivated to push myself further. Allan's expertise in functional training and strength training has transformed my life.
I've lost 20kg and I'm healthier and happier now. If you're looking for a fitness coach who genuinely cares about your progress, look no further than Coach Allan
Jeff, Fitness goal: Gain strength and break through his current fitness plateau
I engaged Allan as my PT for about 1.5 years. Due to my schedule, the most I could afford was 2 times per week. However, his training allowed me to see my growth in strength and more importantly, physically. During that period, it feels good to have not only people I know, but occasionally some strangers commenting on my physique as the training allowed it to be more proportion.
Allan was honest and told me there is no way I will train and end up like him. But he can help me to train and be the best of my version which he did. Because of his strength, he was able to keep pushing me to go heavier, yet supporting the weights when I struggle. The support allowed me to break through the previous barrier as I got stagnant at a certain weight. He was flexible in the training too. Depending on what you want to focus on and your form on the training day.
Finally, a very friendly, smiley and professional instructor that you can engage regardless you are looking to bulk up or tone your figure.
Grace, aged 33+, Fitness goal: Gain muscle mass
My name is Grace, I am 33 years old and I am currently the manager of a photography studio. I cannot express enough gratitude for the life-changing journey that Allan guided me through, 3 times a week for a year.
From the moment we began our sessions, Allan's expertise and unwavering support shone through. He tailored workout plans specifically for my goals and challenged me physically and mentally every session, pushing me beyond my limits in an encouraging and motivating way. It was hard and took a lot out of me, but rewarding.
Under his guidance, I witnessed remarkable improvements in gaining muscle mass, which was my main goal. Being someone with a naturally high metabolism and finds it hard to put on any kind of weight, Allan's nutritional tips and tricks on how I can increase my daily calorie intake were an integral part of me reaching my goal.
Beyond the physical transformations, through his rigorous routines I also gained a newfound confidence and resilience. Weights that I previously thought were impossible for me to lift are now effortless. He has become more than just a personal trainer; he is also a mentor and a friend who genuinely cares about my success and achieving my fitness goals.
To anyone searching for a personal trainer who will push you to your limits, inspire you to reach for the stars, and genuinely care about your progress, look no further than Allan. His dedication, knowledge, and unwavering support are unmatched. I will forever be grateful for the positive impact he has had on my life.
Book Allan Ah Lun as your trainer today! 
---