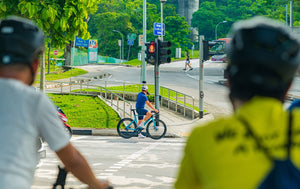 Crazybadman.com launches Bluetooth Speaker Glasses & Sunglasses for better road safety.
(25 August 2023 – Singapore) Road and pavement accidents have been on the rise with cycling growing in popularity. To better road safety for pedestrians, cyclists, motorists, and drivers alike, Crazybadman.com is launching our Bluetooth Speaker Glasses / Sunglasses. With these fashionable spectacles, everyone will have more awareness of their surroundings thus reducing possible accidents from occurring.

Crazybadman Bluetooth Speaker Glasses / Sunglasses have six (6) hours of battery life after a two (2) hour charge. They are sweat-proof and connect easily like any Bluetooth device. At 5.0 Bluetooth standard, there is virtually no latency between play and audio giving you a rich immersive experience whilst being aware of your surroundings. Our products' high quality built-in microphone allows you to take calls and use your mobile assistants like, Siri and Google, to access phone functionalities with quick taps from the glasses / sunglasses.
Using the Crazybadman Bluetooth Speaker Glasses / Sunglasses is easy. After a full charge, hold down the sides with your fingers to switch it on. After four (4) seconds, 'power on' will be said by your glasses / sunglasses. When it's on, pair the glasses / sunglasses with your device. It connects as any Bluetooth enabled technology does. So just plug and play!
Outside of road and pavement safety, our Crazybadman Bluetooth Speaker Glasses & Sunglasses can be used for sports. In situations where you'd stand to lose your air pods or pricy sunglasses like water sports, our products shine. They are affordable and hang well to you. As it takes calls and lasts up to three hundred (300) hours on standby, they also serve as high-tech spectacle frames.
Our round / rectangular glasses are on pre-order promotion at $99 (Retail $150), and our sunglasses are on promotion at $120 (Retail $199) sold exclusively on our website, www.crazybadman.com, and shipped globally. With more models to be launched, do follow us on social media.
ABOUT US
Established in 2013, CRAZYBADMAN is a 100% vending and online sports and health retailer. With trusted LazMall, Shopee Mall, FairPrice Online, Redmart, Amazon stores and more. We sell shuttlecocks, Traditional Chinese Medicine (TCM) pain relief plasters, vegan protein powder, halal whey protein powder, and a range of health and sporting goods.
Most of the brands we carry are relatively unheard of but offer similar quality to more well-known brands at a more affordable price. We curate our product offerings to give you the best value in nutrition, quality, and price.
---