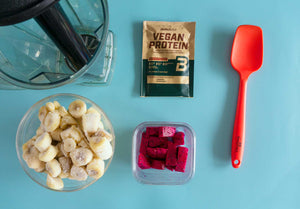 Forest Fruit Protein Nice Cream
Make a creamy, delectable, sugar-free and protein-packed sweet treat with just 3 ingredients and a blender! Who said you can't have ice cream for breakfast?
Makes 1 large serving or 2 small servings
Macros (1 large serving):
23g protein
140g carbs
2g fat
18g fibre
Ingredients:
5-6 ripe bananas
1 sachet (25 grams) BioTechUSA Vegan Protein Forest Fruit Flavour
½ cup red dragon fruit
Method:
Chop bananas and red dragon fruit into bite sized pieces. Place in a freezer-safe bag/box and freeze overnight.
Add frozen bananas, red dragon fruit and protein powder into a blender or food processor. Blend till smooth and creamy.
Transfer to a bowl, top with anything you like. Serve cold.
Toppings used:
Dark chocolate chunks
Desiccated coconut
Mint leaves
Tips:
To make large scoops, freeze the blended mix for 2-3 hours and scoop with an ice cream scoop!
Mix in any frozen fruit of your choice for extra vitamins and flavours!
Use overripe, spotty bananas for best flavour.
Also works great with BioTechUSA Vanilla Cookie, Chocolate Cinnamon, Coffee and Hazelnut flavours!
---